Basic Anatomy of a Modern Card
The credit card of today has come long way, baby, from the credit coins of the 1920s. Credit cards have a thousand different looks. Maybe an image of Save the Socialist Dolphins or rocket skateboards in action, or maybe the store's logo, but they all come in basically the same size, a tad bit more than 2x3 inches. And they all contain certain info.
From CreditCardWorld: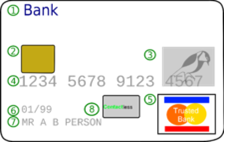 1. Logo of the bank that issued the card.
2. Verification chip if it's a smart card. Smart cards don't have to Phone home to make sure the transaction's kosher.
3. Hologram, to prove the card is not a counterfeit.
4. Credit card number, almost all have 16 digits 
  • 1st digit tells you what industry the card's for (airline, gas, bank credit card, telecom, travel, etc.)
  • 2-6 digits says who issued the card
  • The last several numbers are your account number.
5. Mastercard/Visa logo
6. Expiration Date, till when the card can be used.
7. Card Holder Name, who the card belongs to
And on the back…
There is a Magnetic Stripe; card info is encoded in miniscule magnets. A flick of your wrist swipes it through the card reader at the point-of-sale (POS) terminal. And if the magnetic stripe has been worn away by using it so much, it's considered "swiped out."  Then there's a Signature Strip - your John Hancock goes here. Finally, a Card Verification Value (CVV) Code, a security code that proves to a store on the phone that you actually have the card in hand.
People who Shmooped this also Shmooped...